This new pretended legislation being imposed in 2019 that infringe on the right to keep and bear arms by law-abiding citizens should be dealt with by the Trump administration, but seeing that they are just as adamant about attacking the rights they are supposed to protect by usurping their constitutional authority to ban bump stocks, encourage unconstitutional red flag laws and even seek to ban gun suppressors, it's not surprising they are allowing states to act unlawfully in this matter.
With that said, the following comes from Concealed Coalition, and most of the fake laws come from the growing Communist state of California.
And every single one of them violate the rights given to us by our Creator and which these representatives swore an oath before the Creator to protect. They are now traitors of the people and should be treated as such.
California
*Assembly Bill 1968. A lifetime ban on the right to own a firearm for anyone who has been admitted to a mental healthfacility two or more times within a period of a single year or having been judged as a danger to themselves or others. This bill will take effect at the end of the year. Those affected can appeal the ban once every five years.
*Assembly Bill 3129. A lifetime ban on gun ownership for anyone convicted of misdemeanor domestic violence on or after January first.
take our poll - story continues below
Will the 2nd Amendment Be Destroyed By the Biden Admin?
Completing this poll grants you access to DC Dirty Laundry updates free of charge. You may opt out at anytime. You also agree to this site's Privacy Policy and Terms of Use.
*Assembly Bill 18. An excise tax on gun sales.
Oregon
*House Bill 4145. Bans the ownership of guns for people convicted of domestic abuse or under retraining orders.
Washington
*Initiative 1639. The legal age of purchase for semi-automatic rifles has been raised to 21. Buyers are required to complete a firearms safety course regardless of whether they seek a concealed carry permit.
Illinois
*House Bill 2354. Authorities will be allowed to seize guns from anyone determined to be a danger to themselves or others.
Florida
*Florida will instill a three day waiting period and a bump stock ban.
New Jersey
*New Jersey has banned gun magazines that hold more than ten rounds.
Ohio
*House Bill 228. This bill grants a number of legal rights to those affected by local firearms regulations in suing for damages. It also puts the burden of proof on the prosecutor, rather than the defendant, in self-defense cases.
The year has only just begun. It is worth making a note not only of these changes to gun laws, but to any bills being proposed in your state and at a federal level. Being a safe gun owner means not only being able to handle a firearmresponsibly, but keeping yourself safe. It is your responsibility to make sure that you won't be punished for arbitrary differences in law from state to state.
At some point, patriots are going to have to stand their ground and simply declare they are not complying with tyrant's demands. It will take the people banding together to defend one another, but not another inch of ground can be given up in this area….
Not. One. More. Inch.
By the way, if you want to tell Trump he's talking lawless talk in thinking about banning gun suppressors, you can sign the petition against his administration's efforts.
The American Suppressor Association (ASA) is pushing the movement.
As the unified voice of the suppressor community, the American Suppressor Association is unequivocally opposed to any attempt to ban suppressors. We are unwavering in our support of the Second Amendment, as well as the individual right to possess suppressors.

Since 2011, we have successfully fought to legalize suppressor ownership in three states and suppressor hunting in eighteen. No organization has done more to fight for suppressors than ASA. However, we need your help now more than ever!

Make your voice heard by telling the President you support suppressor ownership and are opposed to any ban! It's time to get loud!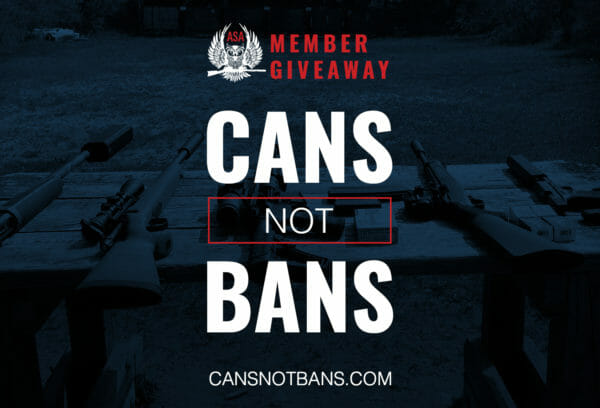 Article posted with permission from Sons Of Liberty Media
---