Unless you religiously follow military forums or news sites, you may have still been under the impression that the A-10 Warthog was grounded and set to be decommissioned following the comments of the USAF in 2015.
However, good news A-10 Thunderbolt II fans! It was saved in the FY18 budget. And confirmed as being resurrected, just last month. That's right! You have one more reason to love Congress and POTUS Trump… they saved your Warthog!
It is said that the A-10 was a plane designed around a gun, the 30 mm GAU-8 Avenger Rotary Autocannon. Supporting this viewpoint is the fact that when the GAU-8 is removed, the A-10's tail must be supported to keep the nose from tipping up after being relieved of the gun's weight.
take our poll - story continues below
Will the 2nd Amendment Be Destroyed By the Biden Admin?
Completing this poll grants you access to DC Dirty Laundry updates free of charge. You may opt out at anytime. You also agree to this site's Privacy Policy and Terms of Use.
Thunderbolt II is the military designation for the A-10, however, its aggressive look and ability to withstand incredible damage, earned it the venerable nickname Warthog, and is even now referred to by that designation in military texts.
In one famous instance of sustaining extreme damage, Maj. Kim Campbell, was flying a close air support mission April 7, 2003 over Baghdad. After her last attack pass, Captain Campbell was leaving the theatre when she felt and heard a large explosion at the back of the aircraft.
Immediately the jet began moving erratically and was not responding to flight control inputs. Maj. Campbell said she had to put the jet into manual reversion, the back-up system. She said that manual reversion is a system of cranks and cables that allow the pilot to fly the aircraft under mechanical control.
Her flight lead flew closely beside her and performed an initial battle damage check. He told her she had hundreds of small holes in the fuselage and tail section on the right side as well as a football sized hole in the right horizontal stabilizer.
With the jet responding well to manual controls, she made the decision to fly back to base, nearly an hour flight time away. She was able to safely land and stop the A-10, in spite of all the damage and having no hydraulic control.
Dozens of similar stories exist about the Warthog since it was first introduced 47 years ago, in May 1972. While it has been in operation since 1976, and was used in Forward operation roles, it wasn't until the Gulf War in 1991 that it saw its first combat.
The Warthog was responsible for destroying over 900 Iraqi tanks, more than 2000 military vehicles. And TWO Iraqi Helicopters in its first Air to Air battle, utilizing the famous GAU-8 Autocannon.
The Warthog had a 95.7 percent mission capable rate. Compared to the F-35 whose average rate in 2018, is a pitiful 11 percent. Very pitiful if you consider the unit cost of the F-35 is $108 million, compared to the A-10's original $19 million unit cost ($49 million in today's money).
Mission capability rate is defined as the availability of a unit as a proportion of time that a system is in a functioning condition. And available is something the F-35 is NOT, but that's a whole 'nother article.
The Warthog, flew 8,100 sorties, and launched 90 percent of the AGM-65 Maverick missiles fired in the Iraqi conflict. Shortly after the Gulf War, the Air Force abandoned the idea of replacing the A-10 with a close air support version of the F-16. There just was no comparison of capabilities.
The A-10 then went on to serve in all major conflicts after the Gulf War.
Bosnia and Herzegovina in 1994–95. Kosovo beginning in March 1999. In March 2002 A-10s participated in Operation Anaconda in Afghanistan and Operation Iraqi Freedom in March 2003 where only 1 was shot down.
In March 2011, six A-10s were deployed as part of Operation Odyssey Dawn in Libya.
A-10's were deployed to the Middle East in October 2014, coinciding with the ongoing Operation Inherent Resolve against ISIL militants. On 19 January 2018, A-10s were deployed to Kandahar Airfield, Afghanistan, to provide close-air support.
As of 2007, the USAF expected the A-10 to remain in service until 2028 and possibly later, when it would likely be replaced by the Lockheed Martin F-35 Lightning II. However, critics have said that replacing the A-10 with the F-35 would be a "giant leap backwards" given the A-10's performance and the F-35's high costs.
The last update regarding the Warthog that you may remember, since it got a lot of media attention, was the USAF's FY 2015 budget. The service considered retiring the A-10 and other single-mission aircraft, prioritizing multi-mission aircraft.
Cutting the whole fleet and its infrastructure was seen as the only method for major savings. The U.S. Air Force stated that retirement would save between $3.7 and $5 billion from 2015 to 2019.
I am not sure who sold the USAF on the concept of "multi-role", "multi-mission" aircraft, but it is just plain ignorant. As anyone with any sense knows, purpose-built, single-role tools always perform much better than something developed to "do everything". Ask anyone if they would rather have a Bowie Knife, or a Swiss Army Knife for a self-defense weapon.
In January 2015, USAF officials told lawmakers that it would take 15 years to fully develop a new attack aircraft to replace the A-10. It planned for F-16s and F-15Es to initially take up Close Air Support (CAS) sorties, and later the F-35A once it had become operationally available. Plans for a replacement aircraft were announced by the US Air Combat Command in August 2015.
The following year, the Air Force began studying future CAS aircraft to succeed the A-10 in low-intensity "permissive conflicts" like counterterrorism and regional stability operations, admitting that the F-35 would be too expensive to operate in day-to-day roles.
Imagine that… your fancy "multi-role" aircraft is TOO EXPENSIVE to be used in MULTI ROLES! Government spending at its finest.
By January 2016, the USAF was "indefinitely freezing" plans to retire the A-10 for at least several years. In addition to Congressional opposition, its use in anti-ISIL operations, deployments to Eastern Europe as a response to Russia's military intervention in Ukraine, and reevaluation of flight-worthy F-35 numbers necessitated its retention.
In October 2016, the Air Force Material Command brought the A-10 depot maintenance line back to full capacity in preparation for re-winging the fleet. This was deemed necessary to keep the A-10 capable in the new battle theatre. By June 2017, it was announced that the aircraft "…will now be kept in the air force's inventory indefinitely."
Solidifying this statement, we flash forward to this year, where we received the good news at a Defense News Conference on September 4, when Lt. Gen. Timothy Fay, deputy chief of staff for strategy, integration, and requirements, confirmed that the A-10 is not one of the aircraft under consideration for divestment, and will stay in service until the 2030s.
"Short answer: No," Fay said, when asked whether the Warthog is on the cutting block.
In order to stay the divestment of the Warthog, the government has awarded a number of contracts to companies such as Boeing, who was awarded over $1 Billion to re-wing the A-10, allowing it to be more capable and carry more munitions to the battlefield.
The remaining contracts are for new weapons, avionics, and sensors, to make the Warthog even more valuable in today's conflict rich environments.
One major upgrade is the integration of the GBU-39 Small Diameter Bomb (SDB) on the A-10's.
The A-10 was limited to carry only a single weapon on each wing pylon. By using the BRU-61/A Bomb Rack Unit, the A-10 will be able to carry four SDBs on each weapon pylon, allowing the Warthog to carry considerably more ordnance to neutralize threats as far away as 50 miles in advance of providing close air support to ground troops.
In order to lock targets more effectively, another upgrade is the Thales Visionix Scorpion Helmet Mounted Display System. The primary upgrade to this Helmet is the replacement of the original magnetic tracking sensor with a new sensor known as HObIT (Hybrid Optical-based Inertial Tracker), which should track pilot head movements more accurately, providing for better target acquisition during high-intensity encounters.
Warthogs are also getting the Viasat Link 16 data links. This will allow the A-10 to communicate and exchange data with all other legacy air assets, namely tactical jets, electronic warfare aircraft, bombers, and AWACS. Targeting and enemy fortification information can be transmitted and received by the A-10's, extending its 'vision' into the battlefield, keeping it out of harm's way and allowing it greater tactical range.
Finally, the Warthog is getting a much-needed enhancement in the form of a synthetic aperture radar pod, to supplement the existing Lockheed Martin Sniper and Northrop Grumman and Rafael LITENING (not a misspelling) pods.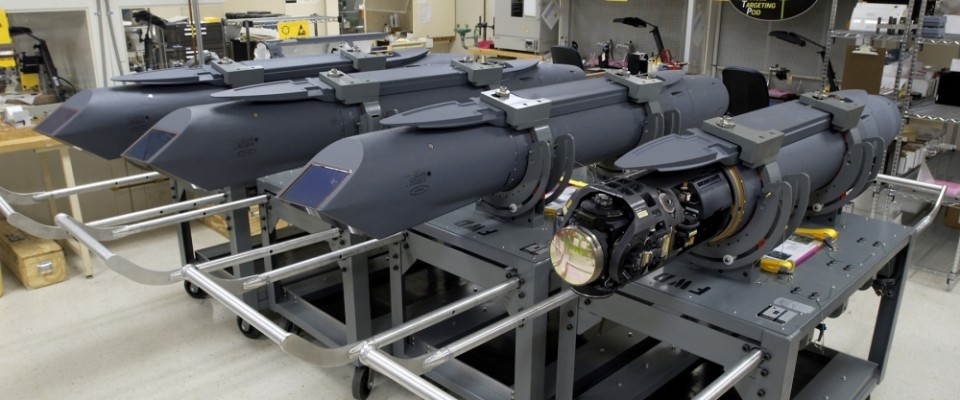 The Sniper pod incorporates a high definition mid-wave FLIR, dual-mode laser, visible-light HDTV, laser spot tracker, laser marker, video data link, and a digital data recorder. LITENING provides Navigation and infrared/electro-optical targeting utilizing an infrared detector, CCD-TV camera, eye safe laser rangefinder and laser designator.
Combining the capabilities of the synthetic aperture radar with the current sensor pods and Link 16, will allow the Warthog to be as electronically capable as 21st century aircraft, — nearly 50 years after its introduction — while retaining the features that make it a rough and rugged brawler for close air support.
Rise again mighty Warthog!
More Government News:
---
About the Author:
DarkStar (obvious pseudonym) has been an active humanitarian for the past decade, running a charity dedicated to helping the mentally challenged overcome life obstacles.
DarkStar left the corporate digital world working for Google and Chicago Tribune to seek more philanthropic pursuits, after becoming tired of helping the "elites" become richer while people were suffering.
With a degree in Computer Engineering and a background in Physics, DarkStar created and patented an Artificial Intelligence to take the place of mental health professionals and services, to help the mentally ill navigate their daily life.
An avid inventor, DarkStar hopes someday to connect with a similarly minded Angel Investor to create a company that can expand to help many more people around the world.
☟
☟
✌️ ɹɐʇsʞɹɐp
---
Conversation section not showing up? Add an exception for https://www.spot.im/ to your ad blockers. Or join us on Dissenter.com!
---
(Visited 1 times, 1 visits today)
---