Videos
6 Saudis Detained in Wake of Pensacola Shooting
After determination Friday that the Pensacola shooter was a Saudi Arabian training in the United States, the story continues to move quickly and other Saudis may be involved.
Several sources reported late Friday that 6 more Saudis have been detained for questioning.
Six Saudi nationals were detained for questioning Friday near a naval air station in Pensacola, Fla., after a Saudi gunman opened fire there, killing three people before being shot dead by officers, a senior U.S. official told Fox News.
The FBI, which is leading the investigation into the shooting — which took place Friday morning at Naval Air Station (NAS) Pensacola in Florida — declined to reveal the identity of the shooter in the early stages of the investigation, but a U.S. official told Fox News the gunman was an aviation student from Saudi Arabia named Mohammed Saeed Alshamrani.
Alshamrani was said to be a student in a U.S. Navy training program for foreign military personnel.
take our poll - story continues below
Will the 2nd Amendment Be Destroyed By the Biden Admin?
Completing this poll grants you access to DC Dirty Laundry updates free of charge. You may opt out at anytime. You also agree to this site's Privacy Policy and Terms of Use.
That program is aimed at "immersing international students in our U.S. Navy training and culture" to help "build partnership capacity for both the present and for the years ahead," Cmdr. Bill Gibson, the center's officer in charge, said in 2017. "These relationships are truly a win-win for everyone involved."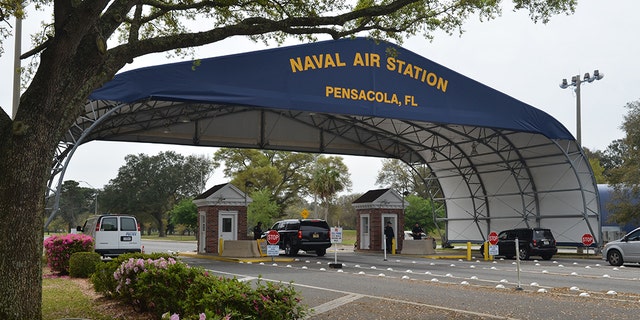 But Friday's events caused many officials and lawmakers to call for deeper scrutiny of the security measures and vetting that goes into selecting trainees.
Sen. Rick Scott, R-Fla., wrote on Twitter that he is calling for a "full review" of the Navy training programs after investigators said they were exploring the possibility that the attack is related to terrorism.
"I'm very concerned that the shooter in Pensacola was a foreign national training on a U.S. base. Today, I'm calling for a full review of the U.S. military programs to train foreign nationals on American soil. We shouldn't be providing military training to people who wish us harm," Scott wrote.
#####
Multiples reports surfaced Friday night stating that six Saudi nationals have been detained for questioning near the Naval Air Station (NAS) in Pensacola, Florida, some who allegedly filmed an alleged member of Saudi military who went on shooting spree at the base earlier in the day.
"Six other Saudi nationals were detained for questioning near the scene of the shooting, including three who were seen filming the entire incident, according to a person briefed on the initial stages of the investigation," The New York Times reported.
Fox News reported that, according to a senior U.S. official, "the suspects were taken into custody and are being questioned about the shooting."
The attacker killed three other people and wounded several others, including two police officers, in what authorities are investigating as a potential act of terrorism. The attacker was killed at the scene.
"The Pentagon told CBS News that the shooter had been in the country since August 2017 pursuant to a U.S. Air Force Foreign Military Sales training case funded by the Kingdom of Saudi Arabia and that he was scheduled to stay until August 2020," CBS News reported. "He was enrolled in English, basic aviation, and initial pilot training at the station, the Pentagon added."
Rep. Matt Gaetz (R-FL) said on Friday that the alleged attacker did not commit murder, but an act of terrorism.
#####
Earlier we reported that the deceased shooter was from Saudi Arabia.
Now that we know there were other Saudis potentially involved, I'd say the chances the shooter was Muslim are considerably higher than 94%.
I believe Matt Gaetz is on the money.
This was almost surely an act of terrorism.
Dean Garrison is the Publisher of DC Clothesline and DC Dirty Laundry
(Visited 3 times, 1 visits today)
Dean is Back!!!
After two years I have regained my eyesight and I'm back to rejoin the fight.
I have overcome my health issues thanks to prayers, perseverance and GOD!
But my finances are in bad shape and I need help to get my children back (wife kicked me out).
If you can help financially please click here. If money is tight, I'd still welcome prayers. Please.
Thank YOU and God Bless!
---