As civil unrest continues to sweep the country, more background checks for guns were conducted in the first nine months of the year than during all of 2019, according to data from the FBI.
A total of 2.89 million background checks were conducted in September, bringing the YTD total to 28.82 million, and surpassing the previous record set in 2019 of 28.36 million. And while September was the weakest month this year since the pandemic started, it was the strongest September since the FBI began background checks over 20 years ago.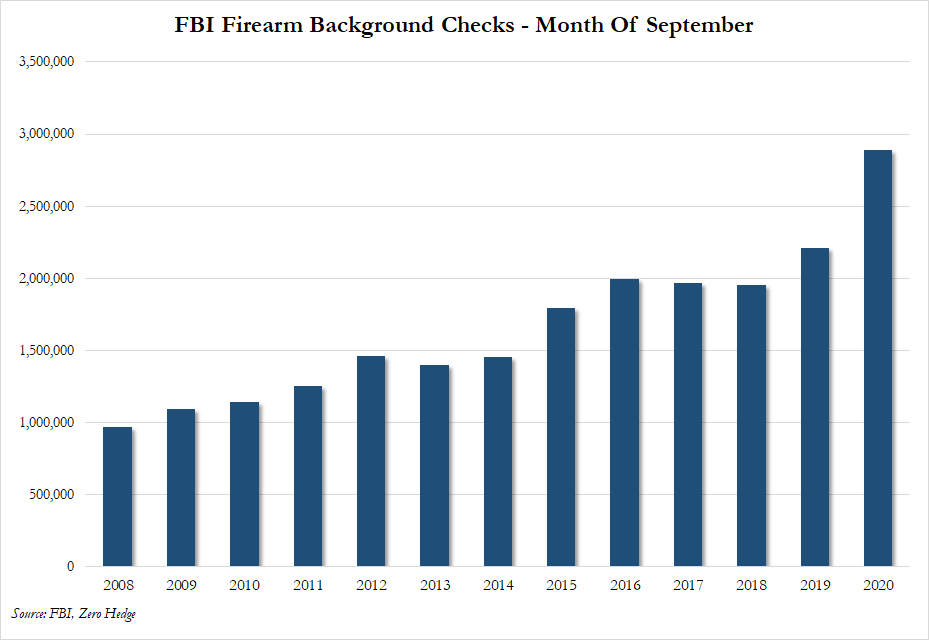 "This has been a year unlike any other, where law-abiding Americans are seeing for themselves the need to be able to protect themselves and their family," said Mark Oliva, director of public affairs for the National Shooting Sports Foundation, the gun industry group (via Forbes).
take our poll - story continues below
Will the 2nd Amendment Be Destroyed By the Biden Admin?
Completing this poll grants you access to DC Dirty Laundry updates free of charge. You may opt out at anytime. You also agree to this site's Privacy Policy and Terms of Use.
In cities across the country, gun store shelves are bare as people scramble to load up before civil unrest worsens – or Joe Biden becomes president.
That's also the view of Larry Hyatt, owner of Hyatt Guns in Charlotte, N.C. He said an influx of urban customers, including women and senior citizens, have been buying up his stock of compact polymer semiautomatic handguns and other guns designed for self defense.

"One reason September dropped off is that the supply of guns is not available," said Hyatt. "The Smith & Wessons are sold out, the Springfields are sold out, the Rugers are sold out. All that's left are the real expensive exotic guns, the rare guns." –Forbes
"Manufacturers can't keep up with the demand anymore," said Dave Bean, owner of Get Guns Now in Oakdale, Minnesota. "The industry's never been hit this hard before" (via the StarTribune).
The surge in gun and ammunition purchases began in March, as the pandemic led to panic buying and shortages of staples, like rice and toilet paper, that some feared might lead to home invasions, gun shop owners said.

George Floyd's death at the hands of Minneapolis police in May, and the protests and riots that followed, further stoked fears of social unrest and violence, intensifying the run on guns and ammunition for self-defense. –StarTribune
Last month, Minnetonka, MN gun store employee Dave Amon said demand shows no signs of slowing – particularly as the debate over law enforcement rages in the wake of several high-profile police shootings which have sparked nationwide protests.
"I've seen a lot more single moms that are scared and need something to protect them," added Amon. "They're scared when people talk about defunding the police."
According to The Public's Radio, a growing number of women are new gun buyers – more than ever before.
"God forbid something happens, I hope I'd never have to use it. But I just want to protect myself," said gun owner Cheryl in a statement to TPR.
The NSSF, a trade association that represents gun makers, said that 40% of those who purchased a gun were first-time owners based on estimates from gun shop owners they spoke with in June.

In an August follow-up to the June survey, retailers told the foundation that 40% of those new gun owners were women. NSSF also said that 58% of firearm purchases were among African American men and women — the largest increase of any demographic group. –WTOP
Amon, meanwhile, also noted that part of the shortage in ammunition is due to COVID-19 shutdowns and social distancing restrictions on how many employees can work on the floor at once, which has caused a sporadic supply of ammunition. When it does hit the shelves, it's gone within hours, according to gun store owners.
It's not just the guns that are selling fast, but the bullets that feed them, resulting in shortages, for buyers and sellers alike, since the early days of the pandemic.

"Even more important to the buyers, is that ammunition is selling out," said Hyatt, noting that popular calibers of ammunition, including 9 mm, .380, .45 and .38, are increasingly hard to come by. –Forbes
40% of buyers are new gun owners, according to retail surveys by the National Shooting Sports Foundation.
"That's a seismic shift," said spokesman Mark Oliva last month.
Forbes also notes that gun sales are fueled by hunting, which is part of a "back-to-the-country trend that has swept America since the springtime rise of Covid-19."
Source: Zerohedge
Subscribe to Activist Post for truth, peace, and freedom news. Send resources to the front lines of peace and freedom HERE! Follow us on SoMee, HIVE, Parler, Flote, Minds, and Twitter.
Provide, Protect and Profit from what's coming! Get a free issue of Counter Markets today.
Trending
---