Once again, as soon as the people of Kentucky are made aware of the trash they are voting for, they kick that garbage to the curb.
Breitbart is reporting that an 8 point swing has occurred in the Governor's race, after Democrat challenger Andy Beshear was outed as a supporter of "transgender" men competing in women's sports.
Kentucky doesn't go for that sort of thing.
Watch the campaign ad:
take our poll - story continues below
Will the 2nd Amendment Be Destroyed By the Biden Admin?
Completing this poll grants you access to DC Dirty Laundry updates free of charge. You may opt out at anytime. You also agree to this site's Privacy Policy and Terms of Use.
Here's more from Breitbart:
A conservative group notes polling data shows an eight-point swing in voters' shift to incumbent GOP Kentucky Gov. Matt Bevin from Democrat candidate Andy Beshear after they view ads highlighting Beshear's support of biological men competing in women's sports.
…
The Campaign for American Principles (CAP) states:
The ads are moving voters in an incredible way — the chart below represents over 2,000 respondents. The gray bar represents Bevin's support among voters BEFORE seeing the ad and the blue bar is Bevin's support from voters AFTER seeing the ad. For voters 45-54, Bevin sees an 8pt increase in support, 55-64 give him an additional 4.1pts, and 65+ shift over 9.4pts towards Bevin after seeing the ad.
"Andy Beshear is too extreme for Kentucky," CAP states in its second digital ad in the state.
"All any athlete wants is a fair shot in competition," the ad's narrator states. "To play by the rules. To show how hard work pays off and how champions are made."
"But what if the rules change?" the narrator asks. "If Andy Beshear gets his way, there won't be any rules. Anyone at any time could change teams for any reason. Beshear calls this equality. But is it fair?"
"Vote against Andy Beshear," CAP urges. "He's too extreme for Kentucky."
CAP notes its first ad attacking Beshear for his extreme views that would destroy women's sports was released on September 23 as part of a $250,000 digital ad campaign microtargeting 400,000 Democrat and independent voters in Kentucky.
This second ad will be added to the rotation, microtargeting the same voters, and CAP will spend an additional $200,000, bringing its total spend in the race up to $450,000.
#####
This isn't the first time a Southeastern state has made a dramatic swing after being exposed to the reality of the left.
After trashy social misfit Taylor Swift endorsed Democrat Phil Bredesen for Senate in 2018, it seemed to seal his fate as well.
If the latest poll from The New York Times/Siena College is any indicator, Taylor Swift's endorsement of Democrat Phil Bredesen for Senate may have actually hurt his campaign.
The Times polled 593 voters across the state of Tennessee between October 8-11 and found Blackburn was leading 54-40 with a margin of error of 4.2 percent. Swift's endorsement of Bredesen was on October 8th.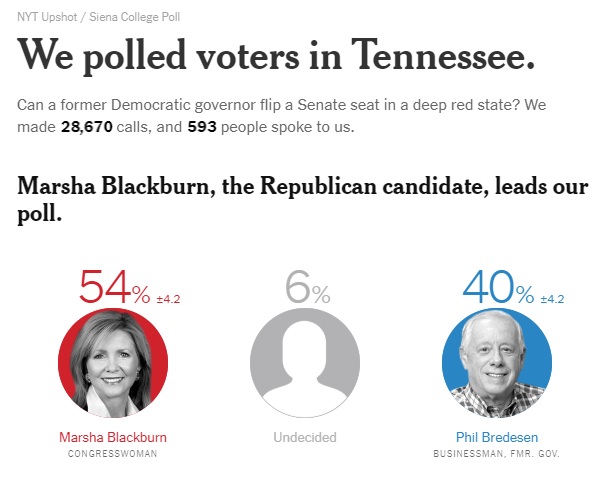 According to the Real Clear Politics poll average, Blackburn has an edge of +5.5.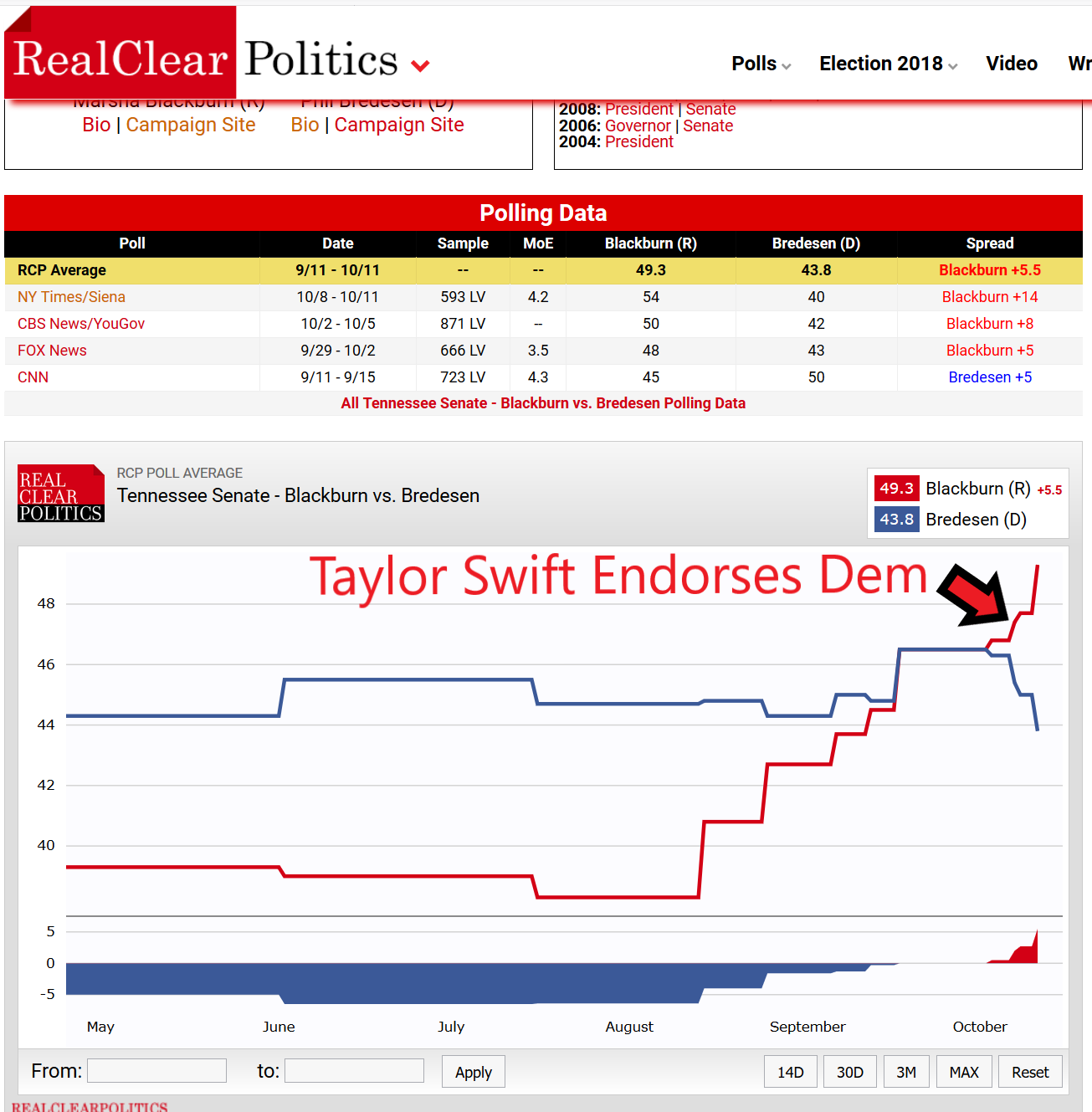 All polls should be taken with a grain of salt. Republicans need to show up in force in the midterms and should not assume any race is a given.
#####
Bredesen never recovered and Blackburn is still the Junior Senator from Tennessee.
Call it the Taylor Swift curse.
Sometimes people get frustrated with GOP incumbents that don't seem to be doing a good job.
But when they are made to see the reality of the alternative, they will rush to vote for a bad Republican.
A bad Republican is probably better than a good Democrat.
I did say probably.
But even the most corrupt Republicans do have their shining moments.
People of Kentucky need to rally now and support Governor Matt Bevin.
I am sure the fact that he was trailing means he has some flaws in the eyes of the people.
But he's not pushing the garbage of the radical left.
Now, if the rest of America would follow Kentucky's lead in 2020 we might fix a lot of what has been wrongly undone in this country.
This country needs to remember what it was like to be a people of moral standards and integrity.
We need to understand that we are Making America Great Again but we are not done yet.
Dean Garrison is the Publisher of DC Clothesline and DC Dirty Laundry
(Visited 3 times, 1 visits today)
---