This post first appeared at Fellowship of the Minds.
Liberals/Progressives/Democrats claiming to be tolerant is one of the biggest myths, i.e., lies, they promote about themselves.
Here's the latest example of the Left's intolerance.
take our poll - story continues below
Will the 2nd Amendment Be Destroyed By the Biden Admin?
Completing this poll grants you access to DC Dirty Laundry updates free of charge. You may opt out at anytime. You also agree to this site's Privacy Policy and Terms of Use.
Founded by the Society of Jesus (or Jesuits) in 1881, Marquette University is a private university in Milwaukee, Wisconsin. With a current student body of about 12,000, Marquette is one of the largest Jesuit universities in the United States, and the largest private university in Wisconsin.
Jackson Walker reports for The College Fix, July 7, 2020, that Marquette University threatened to rescind or cancel Samantha Pfefferle's admission as a freshman after she posted a video to her account on the popular social media site TikTok showing her support for President Trump.
The video, titled "When the libs find their way to your page," has captions such as "When people see that I support Trump," "Then try to hate on me," and "And think I'll change my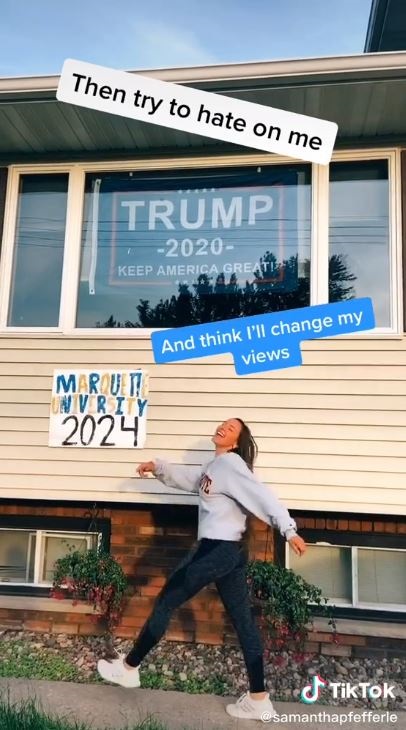 views," over a video of Pfefferle dancing.
The video features a Trump 2020 flag as well as a sign reading "Marquette 2024." The song used in the video is rapper 6ix9ine's GOOBA, and plays lyrics such as " He's mad, she's' mad, big sad, haha, don't care, stay mad."
Pfefferle's post has been watched nearly 600,000 times and has since caught the attention of the Marquette community, some of whom began harassing Pfefferle. Others threatened her life.
One TikTok user wrote: "I hope you get shot." Another commenter wrote: "I'd pray for you but you're not worth it."
Pfefferle told The College Fix in an interview that "I was extremely disappointed by the incendiary comments" and that "The response from my peers has been repulsive."
She said that after she posted her video on TikTok, she was contacted by Brian Troyer, dean of undergraduate admissions at Marquette, who told her her acceptance to the school was far from certain.
Pfefferle said, "[He] had the heart to tell me I wasn't a student. This means that my classification is still in limbo and is currently being decided by the administration. I have been accepted, I paid for my housing, I have my roommates, I even have a complete class schedule. If that doesn't make me a student, what does?"
Some Marquette administrators also asked Pfefferle a series of questions meant to judge her morals, she said. "They also asked me hypothetical questions regarding Dreamers [children born in the United States of illegal aliens]. How would I respond if a Dreamer who lived down the hall from me came up to me and told me she didn't feel safe or comfortable with my views and me being on campus. They also asked me if they thought there was anything I could do to improve my image on campus. They proceeded to ask if I was comfortable with the reputation I have established for myself. The assistant dean asked if I put any thought into the response I would be getting from my videos."
A Marquette spokeswoman told Empower Wisconsin that the school had not rescinded Pfefferle's offer, but admitted that "the admissions team did recently have a conversation with incoming freshman Samantha Pfefferle about statements made on her social media accounts."
Progressive haters are banding on social media to ensure Pfefferle would not be admitted into Marquette University:
Calling Pfefferle "transphobic, racist, and xenophobic" and that her video creates "an unsafe space for the LGBTQ+ community, first generation students, and Dreamers at Marquette," an Instagram user created a copy and paste email template requesting to have Pfefferle's admission rescinded from Marquette and is encouraging others to send the email to Marquette's administration.
On TikTok user wrote: "how can i help. she will not be going to college next year." Another comment reads: "Free speech does not mean no consequences"; yet another gleefully wrote: "i love love LOVE conservatives getting their school offers revoked."
Pfefferle has supporters. There is a petition on Change.org to keep her enrolled at Marquette. Titled "Stop Marquette University From Removing Incoming Conservative Student for Her Beliefs," the petition states:
Freedom of expression is the most fundamental of all rights. What precedence are we setting for future conservative generations? We can't afford to capitulate in the face of tyranny when our youth are depending on us to protect their rights.
Recent
---