Just to give you perspective on how many ports are in Haiti, where Mole Saint-Nicolas is, and what Haiti Invest LLC's development plan is for it, here are a couple of maps reflecting this: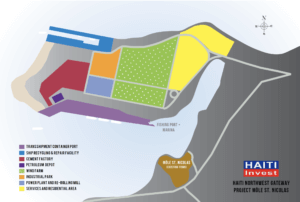 When making these connections, it should be noted that USAID has been involved with port projects in Haiti as well. Most are aware of USAID/Clinton connections, especially when it comes to Haiti. Screenshot of project bids on Cap Haitien Port:
take our poll - story continues below
Will the 2nd Amendment Be Destroyed By the Biden Admin?
Completing this poll grants you access to DC Dirty Laundry updates free of charge. You may opt out at anytime. You also agree to this site's Privacy Policy and Terms of Use.
THE "NON-PROFIT":
The "non-profit" they are speaking about in the indictment and affidavit is the National Organization for the Advancement of Haitians, Inc. (NOAH). Joseph Baptiste's 2013 tax return indicating his name and address, along with being listed as the only "Officer" on the document. Let's not forget that Rudolph Moise was a co-founder of this non-profit as well. Here is a snapshot of their revenue.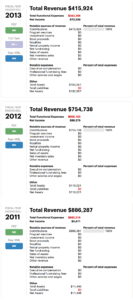 PLAYER 1 – Joseph Baptiste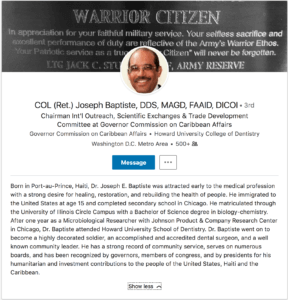 ANOTHER CLINTON CONNECTION:
Baptiste resigned on March 21, 2016 from the Advisory Board of VCS Mining, Inc. in Haiti, where he resided alongside Tony Rodham, Hillary Rodham Clinton's brother.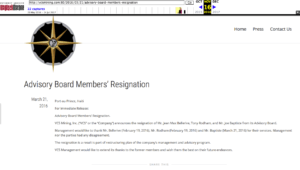 PLAYER 2: Co-Conspirator #1 (CC-I)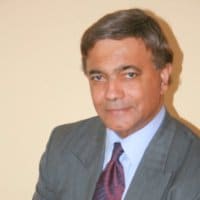 This is the "LLC Company" co-conspirator working with Joseph Baptiste. He is a U.S. citizen and the Chairman & Chief Executive Officer of the company, as the legal jargon affirms in the indictment.
Richard Boncy, is Chairman and CEO of Haiti Invest LLC, otherwise known as the "company".
This one is a lock.
PLAYER 3: Foreign Official-I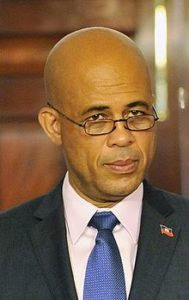 "Foreign Official-I" was a high-level elected official in the government of the Republic of Haiti according to the indictment.
I cannot be 100% certain on this one, but there are two BIG NAMES that come to mind immediately due to their long-term, well documented corruption. My first pick is Michel Martelly – former President of Haiti from May 12, 2001 – February 7, 2016.
Michel Martelly is well known as one of the most corrupt officials in Haiti whom has taken bribes on numerous occasions. You can spend hours reading material on Martelly's nefarious dealings. Here is a taste of Martelly from a March 16, 2015 article the New York Times published on Michel Martelly and his administration:
After Mr. Martelly and his opponents in Parliament could not agree on elections, most legislative terms expired, and the seats remain empty. Only 11 elected officials remain in the entire country, and the president is one of them.

For two months, Mr. Martelly has governed Haiti by executive order, concentrating power in the hands of a man who, his critics say, is a prisoner of his past, surrounded by a network of friends and aides who have been arrested on charges including rape, murder, drug trafficking and kidnapping.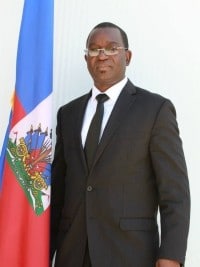 My second pick would be Former President Michel Martelly's Chief of Staff, Wilson Laleau, Minister of Economy and Finance. He too has an extensive background in corruption. Considering his involvement in this project (meeting with IBI Group), he could be a strong candidate for this.
These two are pure speculation, but very plausible. I encourage all to do some digging on this one.
Side note: The indictment also stated that in one instance, this high level foreign official's predecessor was involved with signing one of the letters in this transaction, making him/her a co-conspirator.
PLAYER 4: Aide-I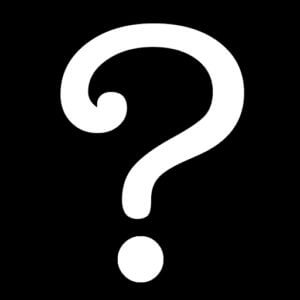 "Aide-I" was an aide to Foreign Official-I, and was a trained engineer. Aide-I was a "foreign official"
I am struggling with this one. Rafael Mev from Haiti Invest LLC would have been my pick for the trained engineer, but he has never been a foreign official, so that removes him from the equation.
PLAYER 5: Aide-II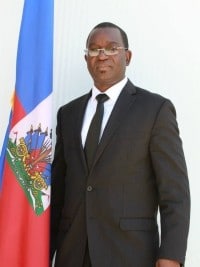 "Aide-2" was an aide to Foreign Official-I. Aide-2 was a "foreign official"
IF Michel Martelly is in fact the "high level foreign official", my guess for this one would be Former President Michel Martelly's Chief of Staff, Wilson Laleau, Minister of Economy and Finance.
Again, this is a speculation based on the extreme level of corruption this man is capable of, in addition to his involvement in the meeting with IBI Group. I encourage everyone to dig into who this "Aide-2" official may be.
PLAYER 6: Lawyer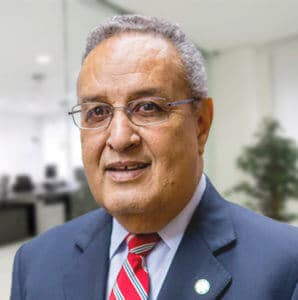 "Lawyer-1" was a lawyer who worked within Foreign Official-1 's office
Jean-Frédéric Salès
Haiti Invest LLC Member of the Board. Cabinet Sales is the most prominent business law firm in Haiti with international career in corporate law and banking. Has participated in most major transactions in Haiti for the past 20 years. I am 99% confident this is the "Lawyer".
ANOTHER CLINTON CONNECTION:
Remember the only article that could be found on discussions about this port project posted above?
Earlier this week, René Hubert, Vice-President of IBI-DAA group presented to the Minister of Economy and Finance, Mr. Wilson Laleau, in the presence of several deputies and Senators of the Department, senior officials of the Ministry and representatives of other state institutions, a draft Strategic Development Plan of Mole Saint-Nicolas in Northwest Haiti.
So who exactly is IBI-DAA group and does René Hubert even exist?
About IBI Group Inc. (IBI-DAA Group Inc.):
IBI Group was founded in 1974 by nine partners to provide professional services in planning and design for urban development and transportation. Even then, we maintained a relentless focus on integrating all of our different disciplines to provide more holistic solutions to our clients.
From the initial two offices in Toronto and Vancouver, IBI Group has grown to over 60 offices in North America, Europe, Asia and the Middle East, with more than 2,500 employees.
In 2000, we experienced strategic growth through acquisitions and in 2004, the firm went public with the formation of the IBI Income Fund. The Fund was converted to a corporation – IBI Group Inc. – at the end of 2010.
This feels like quite an upscale company to be involved with this project. I searched endlessly for René Huberton their website, and he does not exist on there. So I began crawling the internet trying to figure out who this René fellow is. Finally, I found him! According to the Montreal Gazette, as of January 1, 2011, René has been living in Haiti for 15 years, working for IBI Group, even though they do not have offices in that location.
"Our group is working on a cartographical survey of all the thousands of NGOs so the government can know exactly what is being done where," said Rene Hubert, a Montreal urban planner who has lived in Haiti for 15 years, working on development projects with the IBI Group. "So, if someone wants to donate $5 million toward a women's health project, for instance, we will be able to direct that funding to the right spot."

The most important aid work, he said, is to build up Haiti's government so it can take care of all these details itself.

His group (which helped the government draft its post-earthquake recovery plan, released last March) and others are working to develop Haitian government ministries so they can create the infrastructure — roads, airports, health care, education, finance — needed for self-sustainment. Create that and the rest will follow, Hubert said, as it has in places such as Quebec, which has a "huge and expensive civil service — but it works."

Haiti's government is hampered by a perception of widespread corruption that has led donors to give their funds to non-governmental organizations, restraining the government's ability to create long-term change. The creation of the Interim Haiti Recovery Commission — a form of parallel government composed of local and international officials, including former U.S. president Bill Clinton, that will manage funds — will help Haiti build a better future, Hubert said.

Change will be a 10- to 20-year process, he added. But it will come.

"I'm positive and I believe," he said.
So let me see if I have the facts straight:
• René is apparently not the Vice President of IBI Group, so the author of the article regarding the meeting in Haiti, was incorrect in stating so.
• René has been working for IBI Group on development plans in Haiti to rebuild their infrastructure after the 2010 earthquake, and has lived there since roughly 1996.
• Little to no infrastructure took place in Haiti since the 2010 earthquake.
• René believed that Bill Clinton along with local and international officials managing funds for Haiti was going to "help build a better future" for Haiti?
• 8 Years after the earthquake, little to no infrastructure completed, and René is all hands on deck for this next port project?
Either the heads at IBI Group are clueless or complicit, but something is entirely wrong with this whole picture.
THE TWIST:
After endless hours of research on this case, I reached out to my source, a native of Haiti with knowledge of the players in Haiti and the U.S.. He/She agreed that they are definitely trying to keep people confused with this case and he/she is following along closely as well, because he/she believes it to be of great significance in the grand scheme of D.C./Haiti scheming. However, one very important piece of intel he/she acquired from a high ranking source just this morning, is that Roger Rouzier has a contract with the government of Haiti to build the port at Mole Saint-Nicolas. He/she says that this must be the case and must be accurate because his/her source is solid and because he/she knows Roger and his background with ports. THIS, leaving us both confused about this entire case.
CONCLUSION:
1) We now know most of the players – we still need to dig on a few! Not to mention, all of the other connections to the Clintons should be dug into further as well.
2) We now know who the "non-profit" is.
3) We now know who the LLC "company" is, which has a large crew of 60-70. Though, I am not suggesting they are all corrupt, as this requires a deeper dig.
4) We now know that Roger Rouzier has a contract with the Haitian government on the port at Mole Saint-Nicolas.
5) So the big question is: if someone else has a contract on the port with the Haitian government, what exactly was this bribe scheme all about? And why are SO MANY players involved? What is going on here?! Could it be possible that maybe Roger is building the port but this other group is building the rest of the development? Or, could they be trying to bribe the government to change the contract? So many questions here.
There are so many additional connections I could have made above, but in trying to keep focused on the case at hand, I didn't want to branch off too far. I will include that information in subsequent articles.
I encourage everyone to dig, dig, and dig some more! Keep your eyes on this case. I will be following this case closely and posting updates as it proceeds forward.
Meanwhile, DIG ANONS, DIG!
If you find any credible evidence/information, please post it in the comments below and I will include it in future articles and credit you.
4-15-18 UPDATE:
This was recently brought to my attention. It seems back on January 20, 2009, Mr. Joseph Baptiste was hosting former President Barack Obama's official state society U.S. Virgin Islands Inaugural Ball. And guess who was one of the "political elite" to make a guest appearance? You guessed it – former Secretary of State Hillary Clinton. That puts the three musketeers cozying up at the same event 9 years ago. One can only imagine what other events and endeavors they have all engaged in together.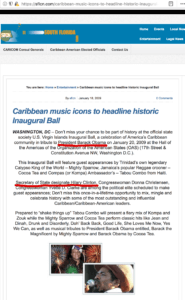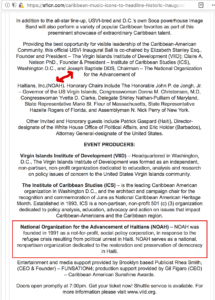 5-3-18 UPDATE:
The final status hearing took place and this case will be sent to the District Court for a pretrial conference. Discovery is complete. Defense counsel states that the case will go to trial. The trial may last two weeks. Defendant will not raise a defense of insanity or public authority.
5-16-18 UPDATE:
This case is proceeding to pretrial on October 4th and trial shall commence on October 15, 2018, at 9:00 a.m. Documents must be supplied by specified dates leading up to the pretrial. Here is the 3-page pretrial order so you can review all of the details.
10-30-18 UPDATE:
Roger Richard Boncy (Player #2 – Co-conspirator #1) was indicted today "for his alleged participation in a scheme to bribe senior government officials of the Republic of Haiti in connection with a planned $84 million port development project, and to launder funds in order to promote the bribery." That makes two official indictments in this case as of today. This is the new indictment which includes both Baptiste and Boncy as defendants. This case has been pushed back to a trial date of December 3, 2018.
Courtesy of Freedom Outpost
Article posted with permission from Corey Lynn, originally published at CoreysDigs.com
Corey Lynn is an investigative journalist who digs for truth in a world where nothing is as it seems, and then connecting the dots and presenting her findings to you. You can follow her work at CoreysDigs.com.