When President Trump said Saturday morning that his administration was going to fight back against Big Tech's discriminatory policies, he had already taken the first step.
From NPR:
Housing and Urban Development Secretary Ben Carson is accusing tech behemoth Facebook of engaging in housing discrimination, according to a complaint filed on Friday.

In it, HUD says the social media giant allows landlords and home sellers access to advertising tools that limit which prospective buyers or tenants can view certain online ads based on race, religion, sex, disability and other characteristics.

take our poll - story continues below

Will the 2nd Amendment Be Destroyed By the Biden Admin?

Completing this poll grants you access to DC Dirty Laundry updates free of charge. You may opt out at anytime. You also agree to this site's Privacy Policy and Terms of Use.

"The Fair Housing Act prohibits housing discrimination including those who might limit or deny housing options with a click of a mouse," Anna María Farías, HUD's assistant secretary for fair housing and equal opportunity said in a statement.

"When Facebook uses the vast amount of personal data it collects to help advertisers to discriminate, it's the same as slamming the door in someone's face," she said.
I said weeks ago Trump should move on these Big Tech companies the same way Obama and the Democrats moved against coal.
It appears that's exactly what he's doing.
If Big Tech won't respect our First Amendment, then to paraphrase Hillary Clinton, "we need to put a lot of Big Tech companies out of business."
According to the complaint, Facebook permitted advertisers to discriminate based on disability by blocking ads to users the company categorized as having interests in "mobility scooter" or "deaf culture." It similarly discriminates based on familial status by not showing ads to users that were labeled as being interested in "child care" or "parenting," according to the complaint.

Facebook could also modify or block ads depending on ZIP code, the complaint adds.

A spokesperson for Facebook said it would respond to the HUD complaint in court and that the company will work with the department about concerns raised.

In a separate action from the HUD complaint, the Justice Department filed a statement of interest Friday, joining housing advocates in alleging that Facebook's advertising platform of violating fair housing laws.

The move allows the lawsuit, filed in March by the National Fair Housing Alliance and three other housing advocacy groups, to continue.
This is an attack on the core of Facebook's business model. Microtargeted advertising is the reason people buy ads on Facebook. You can target only old, wealthy people in Beverly Hills or only young, poor people in Appalachia.
The Republican establishment would never dare make a move like this because it contradicts their "conservative principles" which tell them you can never interfere with the so-called "free market."
They're fine losing on all fronts and letting their children's country be taken over by communists and hostile foreigners so long as they can die on the hill of their "principles."
Trump, on the other hand, is a fighter. He has no problem using the power of the state to fight against these Silicon scumbags.
The Democrats not only ran coal companies into the ground by swamping them with onerous regulations but literally put coal magnate Don Blankenship in jail.
If Republicans want to win they need to give the Democrats a taste of their own medicine.
Big Tech declared total war on us by censoring all alt-media on Google and YouTube search, demonetizing our websites and our YouTube channels, and banning right-wing voices like Alex Jones and so many others in clearly coordinated, high-tech Stalinist purges.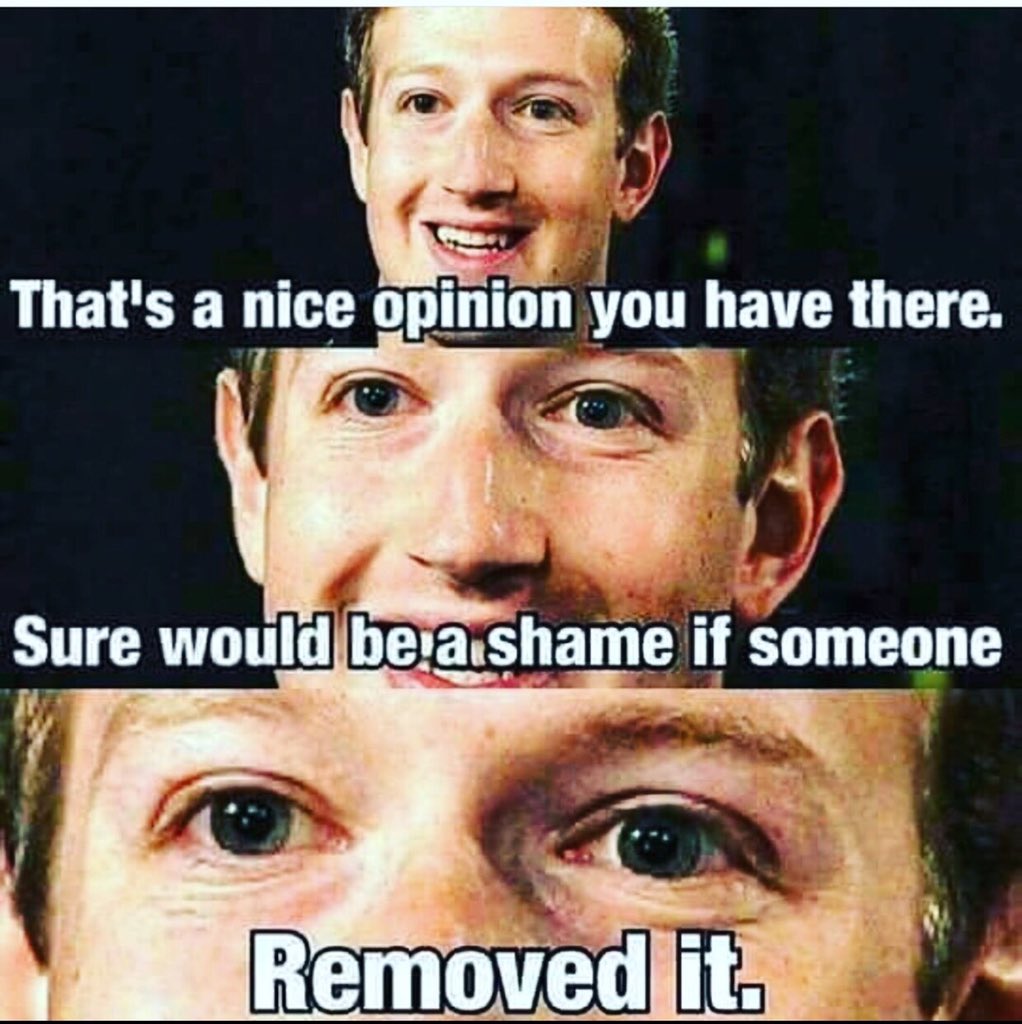 These companies deserve to be run into the ground with onerous regulations. They need to be prosecuted by the feds and forced to abide by FCC rules mandating true net neutrality in the form of forcing all these companies to allow free speech.
If these tech giants fall in the process, so be it. Other, better platforms will take their place.
These tech giants have become monopolies and they're abusing their power by colluding together and interfering in the midterms to favor Democrats in the hope they can impeach our president and end all free speech.
As President Trump said on August 18, 2018 — a day which will go down in infamy — this cannot be allowed to happen.
https://twitter.com/realDonaldTrump/status/1030777074959757313?ref_src=twsrc%5Etfw%7Ctwcamp%5Etweetembed%7Ctwterm%5E1030777074959757313&ref_url=http%3A%2F%2Fwww.informationliberation.com%2F%3Fid%3D58903
https://twitter.com/realDonaldTrump/status/1030779412973846529?ref_src=twsrc%5Etfw%7Ctwcamp%5Etweetembed%7Ctwterm%5E1030779412973846529&ref_url=http%3A%2F%2Fwww.informationliberation.com%2F%3Fid%3D58903
https://twitter.com/realDonaldTrump/status/1030781399920455681?ref_src=twsrc%5Etfw%7Ctwcamp%5Etweetembed%7Ctwterm%5E1030781399920455681&ref_url=http%3A%2F%2Fwww.informationliberation.com%2F%3Fid%3D58903
Follow InformationLiberation on Twitter, Facebook, Gab and Minds.
(Visited 24 times, 1 visits today)
---