Kentucky Rep Thomas Massie, the only GOP congressman with the balls to vote against giving Israel an additional $1 billion from US taxpayers last week, has called out the American Israel Public Affairs Committee for "foreign interference" in our elections.
Massie on Monday highlighted a new ad AIPAC is running on Facebook attacking him for daring to put America First.
"How is THIS not foreign interference in our elections?" Massie said.
Massie said after the vote last week that people have a fantasy that "foreign aid buys US influence abroad" when the reality is that "foreign aid is the result of foreign influence exerted on US politicians at home."
take our poll - story continues below
Will the 2nd Amendment Be Destroyed By the Biden Admin?
Completing this poll grants you access to DC Dirty Laundry updates free of charge. You may opt out at anytime. You also agree to this site's Privacy Policy and Terms of Use.
Lapdog California Rep. Eric Swallowswell rushed to accuse Massie of anti-Semitism and claimed AIPAC is a lobbying group for America:
AIPAC said they lobby on behalf of Israel for America:
AIPAC was founded by Israeli foreign agent Isaiah Kenen who stated straightforwardly that AIPAC came into existence in 1951 as "the lobby for Israel."
"It was established at that time because Israel needed American economic assistance to enable her to absorb the huge influx of refugees who poured into the country soon after statehood," Kenen said.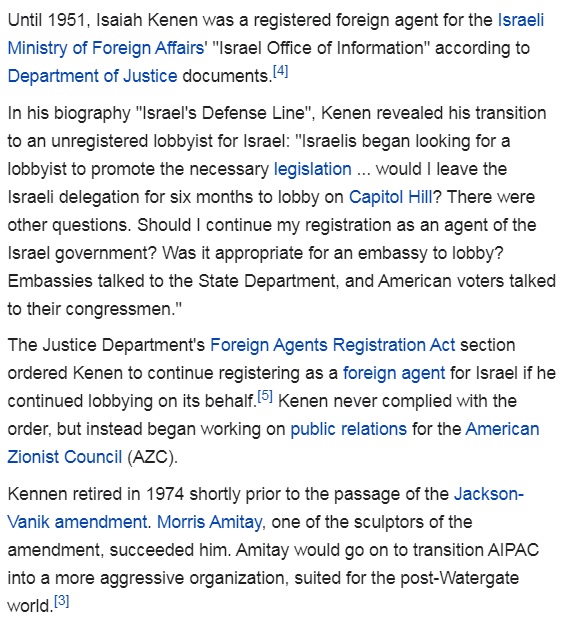 He was ordered to register as a foreign agent by the DOJ in 1962 but refused to comply and used legal tricks to skirt the law.
As IRmep explains:
1. AIPAC is a spinoff of an organization already ordered by the DOJ to register as an Israeli foreign agent. In November of 1962 the American Zionist Council was ordered by the Attorney General to begin filing disclosures as an Israeli foreign agent under the 1938 Foreign Agents Registration Act. http://www.IRmep.org/1962Order.pdf Six weeks later, former AZC employees incorporated the American Israel Public Affairs Committee in Washington, DC, taking over the AZC's lobbying activities. http://www.IRmep.org/AIPAC.pdf AIPAC did not register as a foreign agent.

2. AIPAC's founder Isaiah L. Kenen was the chief information officer for the Israeli Ministry of Foreign Affairs in New York and for a time duly registered in that role. http://www.IRmep.org/Kenen.pdf The Justice Department ordered Kenen to personally re-register after he formally left the Israeli Ministry of Foreign Affairs to head up private lobbying and publicity for the Israeli government at the nonprofit American Zionist Council. Kenen never complied with the order. http://www.IRmep.org/order.pdf

3. Espionage related FBI investigations in 1984 and 2005 reveal AIPAC's ongoing stealth foreign agency activities. Declassified FBI files released on the Internet last week reveal that in 1984 AIPAC and the Israeli Ministry of Economics were investigated for jointly obtaining and circulating classified US economic data to obtain favorable trade benefits for Israel. http://www.irmep.org/ila/economy In 2005 Pentagon Colonel Lawrence Franklin pled guilty and two AIPAC employees were indicted for obtaining and circulating classified US national defense information to Israeli government officials allegedly in the interest of fomenting US action against Iran.

4. AIPAC's executive committee consists of the original member organizations of the AZC in addition to newer members. The Conference of Presidents of Major Jewish Organizations, the umbrella group of AIPAC's executive committee, is housed in the same New York office as the World Zionist Organization – American Section, a registered foreign agent that is heavily involved in illegal settlement expansion according to Israeli prosecutor Thalia Sasson.

According to Grant F. Smith, director of IRmep, the case for reregulating AIPAC as a foreign agent immediately is compelling. "AIPAC was designed to supplant the American Zionist Council as the arm of the Israeli Ministry of Foreign Affairs in the United States after the DOJ ordered the AZC to register as a foreign agent. As such, Americans should have full public access to biannual FARA registrations detailing AIPAC's publicity campaigns, lobbying expenditures, funding flows, activities of its offices in Israel and internal consultations with its foreign principals – particularly over such controversial issues as illegal settlements and US foreign aid."
WATCH:
Kudos to Rep. Massie for being the only Republican willing to bravely stand up for America knowing full well the millions of dollars that are now going to be poured into trying to kick him out of Congress.
Massie in 2019 was the sole Republican member of the House to stand up for the American people and vote against an anti-First Amendment, America Last anti-BDS resolution.
The Republican Jewish Coalition immediately labeled him "anti-Semitic" and threw their support behind his primary challenger, Todd McMurtry.
The RJC later pulled their support for McMurty after learning he spoke out against the "demonization of white people" and Massie was able to easily get reelected.
Nonetheless, there's no question they're going to be fielding a challenger to run against him.
Massie's unapologetic stance stands in stark contrast with NY Rep. Alexandria Ocasio-Cortez who caved spectacularly on the $1 billion funding bill last week and changed her vote from "no" to "present" before crying on the House floor.
Rather than simply say she felt threatened, AOC released a rambling and largely incomprehensible statement complaining about the "process."
Follow InformationLiberation on Twitter, Facebook, Gab, Minds, Parler and Telegram.
Article by Chris Menahan
---