There is a little known place near Fairfield, Iowa called Maharishi Vedic City, that officially incorporated in 2001. This little city, located right next to the Fairfield Municipal Airport, boasts its very own outdoor observatory, The Raj Ayurvedic Health Center, and a hotel located kitty-corner to the Maharishi Vedic Pandit Campus. The campus itself spans 80 acres, and consists of over 160 buildings designed according to the Maharishi Vastu Architecture, giving the appearance of army barracks. They accommodate 1,000+ male Pandits training to be world peace keepers. Pandits are students that train under the Maharishi's instruction, spending 8 hours a day in transcendental meditation and chanting to create an influence of world peace, and they do this for 2-3 years. They begin their training in India, at a very young age, before moving to Iowa, fully funded by Maharishi followers. These Pandits arrive from India, and in 2014, it is alleged that over 160 Pandits went missing – shortly after, a mob of Pandits attacked the sheriff. Astonishingly, between 2008-2014 there were 20 suicides in the small town of Fairfield, with a mere population of only 9,400-10,000 during those years.
Whereas transcendental meditation and yoga prove to be highly beneficial, when done in this closely ruled environment in Iowa, perhaps the pros and cons need to be measured? Many past students, teachers, and locals have attributed the Maharishi to the likings of a cult. Even John Lennon had issues with the Maharishi, despite everyone proclaiming him to be his guru. Is it possible that too much transcendental meditation, governed by strict rules over ones daily life, can have an adverse effect? Where did the Maharishi emerge from, gain his popularity, and just how far does this "movement" go? Across the world. From broadcasting and publishing, to government and monetary systems, rebuilding cities, and creating "world peace" with a lot of structured rules, this movement has a grand world plan with some interesting connections.
What is going on in Iowa?
The state of Iowa has seen its fair share of tragedies, with the recent murder of Mollie Tibbetts, a staggering amount of unsolved murders, and a high level of missing persons reported, according to the Iowa Department of Public Safety. In 2013 the FBI got involved with trying to prevent an alarming number of young girls from being bought and sold, and turned into sex slaves at truck stops along I-80. It seems everything needs a closer look these days, and people should be both observant and vigilant.
The FBI says the problem is real. Law enforcement officials say I-80 plays a big part in helping men buy and sell young girls.

take our poll - story continues below

Will the 2nd Amendment Be Destroyed By the Biden Admin?

Completing this poll grants you access to DC Dirty Laundry updates free of charge. You may opt out at anytime. You also agree to this site's Privacy Policy and Terms of Use.

While many are kidnapped, some who run away from home are easy targets for pimps traveling through.

Now police are reaching out for help and some truckers are signing up. They are now the eyes and ears of our highways. They're working with local law enforcement officials to stop this nightmare.

300,000. That's a big number and it's the number of children who are kidnapped and forced into sex trafficking each year according to the U.S. Department of Justice.

Sex trafficking has been reported in all 50 states and the FBI says thousands of slaves are brought to the United States each year from other countries. All of who are bought and sold for the sex trade.
Historical side note: The underground railroad in Iowa, otherwise known as "John Brown Freedom Trail 1859" runs clear across Iowa along much of I-80. This is a terrific 25-pg pdf containing photos and historical information, and this site offers an actual map where these locations fall. Whereas the underground railroad was a path to freedom from slavery, it's parallel path – I-80, is a path to slavery. It's tragic how history keeps repeating itself with different faces.

Maharishi Vedic City and Campus in Fairfield, Iowa
Right next door to the Maharishi Vedic City, in the town of Fairfield, is the Maharishi University of Management(MUM), founded in 1971 by Maharishi Mahesh Yogi, the same Maharishi who incorporated Maharishi Vedic City. They have a sprawling campus across 270 acres, which also consists of the Maharishi School of The Age of Enlightenment (preschool-12), the Maharishi Peace Palace, a large recreation center, and two 20,000 square foot golden dome meditation buildings. Butting up to this campus is an Army National Guard facility, Abu Bakr Mosque located in the basement of the MUM library, and the David Lynch Foundation TV.
Lynch is one of the biggest financial supporters of the Maharishi, and played a big role in its development. In fact, in 2010, Lynch organized an American Indian Sustainability Conference with Bill Clinton giving the opening address, via a recorded message, hosted by the Maharishi University. Bill Gates Giving Pledge cohort, Ray Dallio, is a big supporter of David Lynch and meditation, and has given over $10 million to his foundation over the years. Even Marina Abramovic raves about Lynch's work, and would very much like to meet him.
A Very Condensed Overview of The Maharishi TM Movement
In short, the schools, pandits compound, and overall lifestyle at the Maharishi all involves transcendental meditation as a requirement. Its headquarters are in Vlodrop, Netherlands, with operations all over the world. There are scientists and researchers who study the brain at the university, compiling data. There are many rules, and they are not allowed to be broken, as is prevalent in testimonies further down in this article, from those who have attended or taught there. Many celebrities have become very involved in TM throughout the years, and Jim Carrey was just awarded an honorary PhD in 2014 from the Maharishi University of Management.
Whereas Fairfield, Iowa hosts several Maharishi schools and facilities, these schools extend to Australia, Netherlands, England, South Africa, and India. Interestingly, the average age median for Maharishi Vedic City is 28, with an average income of $57,500, which is far greater than neighboring towns. The Washington Post reported, "His organization's $3.5 billion in assets include a chain of hotels, a health food distribution network and a veritable library of instructional books and videotapes, in addition to real estate holdings that include a five-story, 20,000-square-foot building near the New York Stock Exchange."
That is not the only way the Maharishi and friends made their millions. The Maharishi also founded numerous foundations, organizations, the Peace Palace, societies, 23 Maharishi Vedic health centers in 16 countries, a monetary system, global funds, Global Country of World Peace (worth reviewing), publishing, television and radio, and the World Plan Executive Council with many branches.
The World Plan Executive Council was established in 1972, in both Switzerland and Washington D.C. In 1985 an interesting civil suit was brought against them, which ultimately was dismissed and eventually settled. In the 1990s WPEC, in the United States, became the parent company to an American, for-profit, hotel subsidiary called Heaven on Earth Inns Corp.
The Maharishi's Global Country of World Peace Arrives in Haiti
Raja Lucien Mansour (Raja of Haiti), trained by the Maharishi to serve his GCWP programs, setup shop in Haiti to teach Yogic Flying, with the intention of creating a problem-free, invincible country. In a 2008 article written by the group, they stated:
Raja Lucien said in 1983, during the historic Taste of Utopia Course (at Maharishi University of Management in Fairfield, Iowa, USA), Maharishi Mahesh Yogi, Founder of the Global Country of World Peace, met with him and Dr. Gilda Mansour about Haiti. 'With the unbounded compassion that belonged to Maharishi alone,' Maharishi said to them 'that he wanted to raise Haiti to a state of abundance and happiness'.

Maharishi had mentioned that it was the darkest place in the Western hemisphere. He wanted the Mansours to offer Haiti a school of thousands of students. 'Today a light has begun to shine on the Haitian soil,' said Raja Lucien, 'and Maharishi's desire is witnessing its own fulfilment as one hundred, and soon two hundred, Yogic Flyers have been trained by the Transcendental Meditation Sidhi Programme administrator, Dr. Richard Robertson, under the care of the champion Yogic Flyer Dr. Eddie Gob, who is now the National Director of Haiti and advisor to the Raja of Haiti.
Yogic flying seems to have peeked curiosity by others as well. This is a very interesting article pertaining to Pakistani Military and yogic flying. "Amazingly, the defense strategy was based on a powerful advanced meditation technique – Transcendental Meditation and the TM-Sidhi program, including "Yogic Flying." COL Torres was astounded. How could meditation prevent war?"
What exactly is yogic flying? Take a look inside one of the golden meditation domes in Fairfield, Iowa in this 5 minute video presentation by National Geographic:
Rajas are stationed all across the world, working toward the Maharishi's goals. A Raja is a title for a monarch or princely ruler in the Indian subcontinent and Southeast Asia. Here is a glimpse, provided by Wikipedia, so it may not be up to date, but gives a good idea of the coverage.
According to their website, the Maharishi's vision was, "To develop every student's total creative potential through Consciousness-Based℠ education, thereby raising every nation to invincibility and creating peace and prosperity for our world family," accompanied by a list of goals provided on their website. At the age of 90, Maharishi Mahesh Yogi passed away at his home and headquarters in Vlodrop, Netherlands on February 5, 2008, but his work continues on. According to Religion News Service, at the time of his death, there were 15,000 certified teachers and 200 TM centers in the U.S., including David Lynch's foundation, which seeks to introduce schoolchildren to transcendental meditation.
What Made The Maharishi So Popular?
There was a big popularity push in the late 60s about just how incredible this "guru" is. Most would have you believe that Maharishi Mahesh Yogi is the Beatles guru, amongst other celebrities, and therefore, why shouldn't he be yours as well? In fact, there isn't an article that exists without the Beatles in the headline or mentioned throughout. If you search the internet for images of the "Beatles and Maharishi", you will find numerous photos that became the central focus, in what seems to have been quite the marketing campaign. However, John Lennon may disagree with this theory that he was their "guru", and likely wouldn't be too happy if he were still alive.
In a nutshell, the New York Times claims that the Beatles were using LSD to tap into the cosmic subconscious, and the Maharishi had promised to get them there without chemicals. The Beatles agreed to attend a retreat in Bangor, Whales at the end of August 1967. Coincidentally, and very unfortunately, their manager Brian Epstein died of an accidental drug overdose at age 32, just days after the Beatles arrived at the retreat. They were absolutely devastated.
It is claimed that the Maharishi helped them through this shock, and in February 1968 they flew to Rishikesh to devote themselves to his instruction until April, when John rounded them up, marched down to the Maharishi's ritzy abode, and said, "we are leaving. If you're so cosmic, you'll know why."
Although the media would have everyone believing that this "guru" saved the Beatles lives, John tells quite a different story in the song he wrote about the Maharishi, which was later changed to "Sexy Sadie" on the White Album, at the request of George. Some believe it to be sarcasm, but clearly, he had issues with it all, or he wouldn't have grabbed the band to leave, and later talked about it negatively.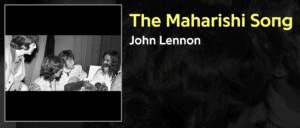 Audio recording of John Lennon singing the song.
Lyrics to the song:
Well let me tell you something
About the Maharishi camp
In Rishikesh
There were one or two attractive women there
But mainly looked like, you know
Schoolteachers or something
And the whole damn camp
Was spying on the ones in the bathing suits
And they're supposed to be meditating
And there's this cowboy there called Tom
Who plays cowboys on TV
And my, did the Beatle wives go for him in a big way
I wondered what it was –
It was his tight leather belt
His jeans, and his dumb eyes
They seemed to love them eyes
(What's wrong with his eye? You have big eyes.)
Me, I took it for real
I wrote six hundred songs about how I feel
I felt like dying, and crying, and committing suicide
But I felt creative and said:
"What the hell's this got to do with
What that silly little man's talking about?"
But he did charm me in a way
Because he was funny, sort of cuddly
Like a sort of, you know
(Like a teddy bear)
Little daddy with a beard
Telling stories of heaven
As if he knew
You could never pin him down
But he often spread rumors through his right hand man
Who used to be with the CIA
And told about the planes he saved
How Maharishi came through the storm on a plane
And the pilot was getting worried they couldn't land
When Maharishi looked up
And with one foul look
(According to the man who works for him)
Everything was OK and they landed
After that I thought: lies
But who was that woman that looks like Jean Simmons
That keeps going to him for private interviews?
She must have been about forty, forty-five
Kept telling about her husband cause he wasn't there
He was always trying to get a private audience with the Maharishi
And he kept refusing
I knew only one thing:
He must have had some of his own
It must have been that little Indian piece
She came with the tailor
And could sit at his feet
And that was one in five hundred
The rest had to wait like good American people
In lines to see the master walking on the petals
Who lived in a million dollar staccato house overlooking the Himalayas
He looked holy
(But he was a sex maniac)
I couldn't say that, but he certainly wasn't…
(Holy)
In the true sense of the word, that is
John Lennon speaks about when they left the Maharishi in Rishikesh in this 2-minute radio interview clip:
Click below to continue to page 2…
(Visited 17 times, 1 visits today)
---