Former CDC Director Thomas Frieden was recently arrested on August 24, 2018, for forcible touching, sexual abuse, and harassment. Is that what this has come down to? Arresting a man responsible for preventing a 19-year CDC veteran whistleblower from speaking up against vaccines, to exaggerating the swine flu and pushing vaccines, making mandatory and involuntary tracking of pregnant women's ongoing diabetes results law, and assisting former President Barack Obama with his healthcare scheme, and yet, they nail him on "groping a woman". Not that sexual abuse should be taken lightly, but it wreaks of cover-up. Meanwhile, billions of taxpayer dollars have been injected into these potential scandals.
Sexual scandals seem to be a theme lately for those who are involved in much higher levels of corruption. Thomas Frieden is not "one of the nations most respected medical experts", as the MSM would have you believe. In fact, Frieden's history with a long chain of corrupt politicians and "philanthropists" is much bigger than most people realize. Thomas Frieden is a peg on the board, years in the making, being moved to where they need him, while always staying within the circle, and he's still at it. Reviewing the nearly 30-year timeline, connections, and events below, one can draw their own conclusions as to what they believe the "bigger picture" is.
Thomas Frieden's Career Timeline:
1990 – 1992: Frieden was an epidemic intelligence service officer for the Atlanta-based CDC, and was assigned to New York City.
1992 – 1996: Frieden was assistant commissioner of health and director of the New York City Department of Health and Mental Hygiene, and Bureau of Tuberculosis Control. While there, he secured city, state and federal funding for tuberculosis control. After controlling a tuberculosis epidemic and reducing multidrug-resistant tuberculosis by 80%, the city's program became a "model" for tuberculosis control on a global scale.
take our poll - story continues below
Will the 2nd Amendment Be Destroyed By the Biden Admin?
Completing this poll grants you access to DC Dirty Laundry updates free of charge. You may opt out at anytime. You also agree to this site's Privacy Policy and Terms of Use.
1995 – 2001: Frieden worked as a technical advisor for the World Bank, health and population offices.
1996 – 2002: Frieden worked in India, as a medical officer for the World Health Organization on loan from the CDC. He helped the government of India implement the Revised National Tuberculosis Control Program.
2002 – 2009: Frieden served as Commissioner of Health to the City of New York. He was also instrumental in the two-year test project of the electronic health record (EHR), a new system Obama was preparing to establish under the American Reinvestment & Recovery Act in 2009, just before appointing Frieden as CDC Director.
2004: As Commissioner, he proposed to eliminate separate written consent for HIV testing, which created controversy. Apparently, he believed this would encourage physicians to offer HIV tests during routine medical care, which is what the CDC recommended. Advocates fought this legislation, believing it would undermine patients' rights and become forced testing.
2006: As commissioner, he implemented the A1C test which involuntarily tests and tracks diabetes of pregnant women.
2009 – 2017: Former President Barack Obama appointed Thomas Frieden to CDC Director. He led the efforts on combatting the pandemic flu, Ebola, and Zika epidemics. In a statement, Obama called Frieden, "an expert in preparedness and response to health emergencies" who in seven years as the city health commissioner has "been at the forefront of the fight against heart disease, cancer and obesity, infectious diseases such as tuberculosis and AIDS, and in the establishment of electronic health records." He promptly resigned on January 20, 2017 when the Trump administration stepped in.
2017 – present: Frieden began leading the $225 million initiative called "Resolve" to save 100 million lives over the next 30 years by preventing heart attacks and strokes. The effort is funded by Bloomberg Philanthropies, the Chan Zuckerberg Initiative and the Bill & Melinda Gates Foundation, and housed in New York City by a non-governmental organization, Vital Strategies.
Let's cut to the chase and point to the facts of seven big red flags that Frieden was instrumental in. There are far more than seven, but these particular red flags will illustrate the patterns well.
7 BIG RED FLAGS:
RED FLAG #1: Involuntary Tracking of Pregnant Women's Diabetes Data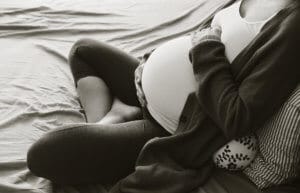 A1C Mandatory Diabetes Registry
In 2005, when Frieden was the Health Commissioner of New York City, he worked to raise awareness about diabetes in pregnant women. He established an involuntary, non-disclosed hemoglobin A1C diabetes registry to track patients' blood sugar control over several months. The information is reported to treating physicians. This decision, passed by the New York City Board of Health, that required laboratories to report A1C test results, created huge debates where many saw it as a violation of medical privacy.
As Chicago-Kent College of Law reported: "Whose Business is Your Pancreas? Potential Privacy Problems in New York City's Mandatory Diabetes Registery"
This raises the question, what data was Frieden really after? It's interesting this information gathering pertained to pregnant women, considering 10 years later they stated the Zika virus has the most impact on pregnant women's babies, so much so, they created a "Zika pregnancy registry" as well, whereby they track the babies medical history until it's second birthday. They actually have a short video of how this registry works on their site. Just what exactly are they tracking?
RED FLAG #2: More Data Scraping with Electronic Health Records (EHR)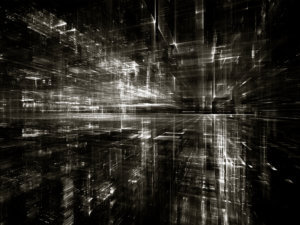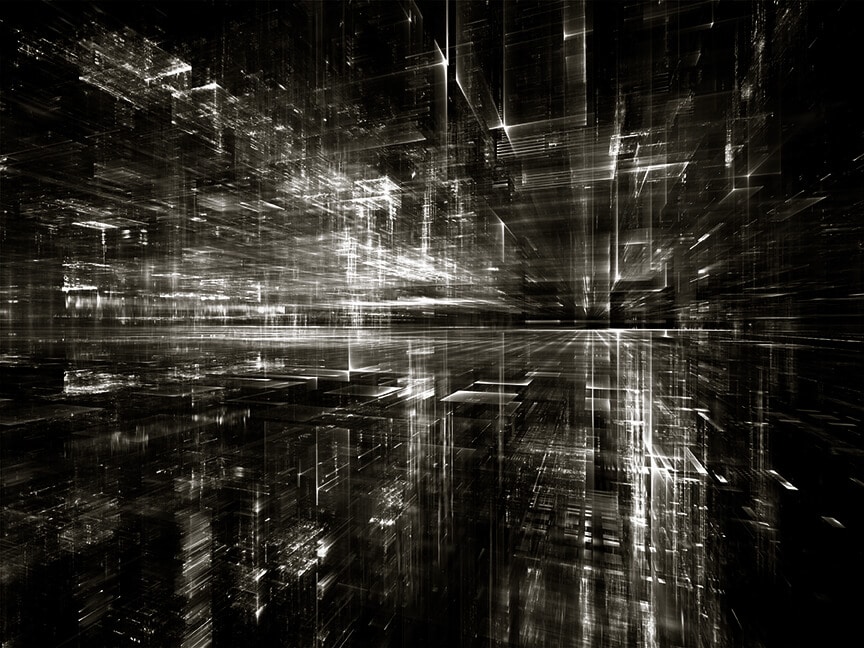 This story is a tad bit longer, as it involves several players and shows the Obama/Frieden connection before Frieden became the CDC Director. What was Barack Obama's "The American Recovery and Reinvestment Act of 2009", which established the Electronic Health Records (EHR) Incentive Program, all about? Obama created this stimulus package for physicians to buy this technology and make all health records electronic. But why? There was a big push for this. In fact, prominent venture capitalists jumped at this opportunity.
The Obama administration's plan was to spend $19 billion to accelerate physicians using computerized medical records. Supposedly the physician incentive was for more than $40,000 spread over a few years for a physician who buys and uses the electronic health records. Physicians will only be paid for "meaningful use" of digital records. The Primary Care Information Project in NYC was the "model", headed by Dr. Farzad Mostashari, an assistant commissioner in the city's health department at the time. The NY project's brief history began in 2007 with $27 million in financing.
Interestingly, in this article by The New York Times, they don't seem to mention the fact that Thomas R. Frieden was the NYC Health Commissioner at that time. That's strange because Obama made it a point to praise him for his work "in the establishment of electronic health records" in a statement when he chose Frieden to be his CDC Director in 2009.
To be clear, NYC was working on this 2-yr "project", Obama's 2009 Act was put in place, then Frieden moves over to CDC Director. But this story doesn't end here because this was a well thought-out project with several players involved. Who's behind the technology?
They are "Well placed to benefit from President Obama's stimulus package — which includes $19 billion for a national rollout of electronic medical record systems — the software company is preparing for breakneck growth."
Meet eClinicalWorks 3 founders. India natives and American entrepreneurs Girish Navani, brother Mahesh Navani, and cousin Rajesh Dharmapuriya. They were so psyched, just one month after the new Act passed, they were taking on Walmart. Yes, the one Hillary Clinton used to serve on the board and work for.
The Washington Post and The New York Times couldn't say enough good stuff about it, and by September 2015 eClinicalWorks was kicking butt, and decided to buy this property for a cool $21.5 million to house their incoming staff.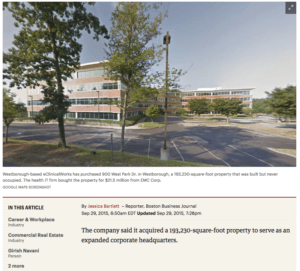 Just one month later, the New York Post painted a very different picture for how well this new system was working in the industry: "Team Obama's electronic medical records mandate is a disaster."
Then it happened – on May 31, 2017, eClinicalWorks hit a stumbling block, when the U.S. Department of Justice fined them $155 million for misrepresenting capabilities of its software.
Under the program, the U.S. Department of Health and Human Services (HHS) offers incentive payments to healthcare providers that adopt certified EHR technology and meet certain requirements relating to their use of the technology.
To obtain certification for their product, companies that develop and market EHR software must attest that their product satisfies applicable HHS-adopted criteria and pass testing by an accredited independent certifying entity approved by HHS.

In its complaint-in-intervention, the government contends that ECW falsely obtained that certification for its EHR software when it concealed from its certifying entity that its software did not comply with the requirements for certification.

"This settlement is the largest False Claims Act recovery in the District of Vermont and we believe the largest financial recovery in the history of the State of Vermont," said Acting U.S. Attorney Eugenia A.P. Cowles for the District of Vermont.

Under the terms of the settlement agreements, ECW & 3 of its founders, are jointly & severally liable for the payment of $154.92 mil to the U.S. Separately, Developer Jagan Vaithilingam will pay $50,000, & Project Managers Bryan Sequeira, & Robert Lynes will each pay $15,000.

As part of the settlement, ECW entered into a Corporate Integrity Agreement (CIA) with the HHS Office of Inspector General (HHS-OIG) covering the company's EHR software. This innovative five-year CIA requires, among other things, that ECW retain an Independent Software Quality Oversight Organization to assess ECW's software quality control systems and provide written semi-annual reports to OIG and ECW documenting its reviews and recommendations.

ECW must also retain an Independent Review Organization to review ECW's arrangements with health care providers to ensure compliance with the Anti-Kickback Statute.
What is an anti-kickback statute? The federal Anti-Kickback Statute ("Anti-Kickback Statute") is a criminal statute that prohibits the exchange (or offer to exchange), of anything of value, in an effort to induce (or reward) the referral of federal health care program business. See 42 U.S.C. § 1320a-7b.
Here is the icing on the cake… in 2014 (when they still thought she wouldn't lose), eClinicalWorks won a government contract to provide electronic health record services to the medical professionals who manage care at ALL 23 U.S. Immigration and Customs Enforcement detention facilities. That following year is when they bought their new $21.5 million property. Funny how that works.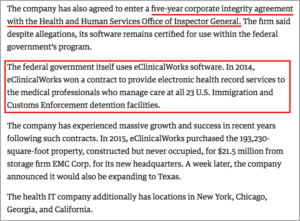 So to recap, Thomas Frieden, NYC Health Commissioner was working on the electronic health records project for two years before Obama created the "Act". In 2009, he brought Frieden on as the CDC Director. Obama laid out billions on this, and big investors jumped on board. eClinicalWorks was building a name for itself and one month after the Act passed, they landed Walmart. In 2014, they landed a government contract providing the EHR software to ALL immigration and customs enforcement detention facilities. These records, therefore, manage the data of all adults and children seeing the medical professionals that come into those facilities. Why is it important to gather this data, especially coming through immigration? Is child trafficking at play here? Is organ trafficking at play here? Neither is a leap, once you have reviewed all of the statistical data on both.
Clearly, the Justice Department was onto them, and it's also clear that Obama orchestrated his healthcare scheme quite well with the help of Thomas Frieden.
RED FLAG #3: Swine Flu Data Cover-up & Vaccine Push Scandal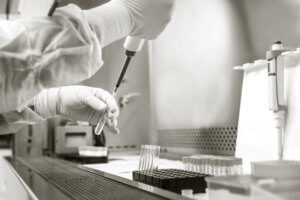 In 2009, CBS reported, "Swine Flu Cases Overestimated"? Kudos to Sharyl Attkisson for doing a 3-month investigation into this, and reporting her findings. According to their investigation, they stated that it was unlikely that people have the H1N1, and in fact, probably didn't have the flu at all. This was based on their state-by-state test results they had obtained over a 3-month period. Below is a portion of Sharyl's report:
Continue to Page 2 by Clicking Below:
(Visited 8 times, 1 visits today)
---